Vasti Treatment of Pancha Karma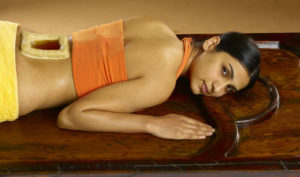 Vasti or Basti is a medicated Enema treatment that is extremely beneficial for rejuvenating convalescence and treating neuromuscular and musculoskeletal disorders, infertility, sexual debility and other conditions. The term "Basti" stands for a pouch or bag. The procedure involves introducing ayurvedic liquid and herbal concoctions made of oils and milk through the perineum or anus or the vaginal opening in women in order to cleanse and heal the lower part of the body and remove the toxins accumulated in this part through the colon and urinary tract.
This ayurvedic treatment helps in relieving kidney stones, backache, chronic fever, cold, constipation, sciatica and joint pains. There are primarily two types of Basti – Anuvasana Basti that uses medicated oil enemas and Niruha Basti that uses enema made from a combination of medicated oils and herbs.