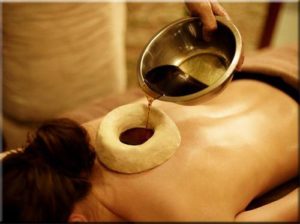 Greeva Vasti treats the disorders related to the neck region. Greeva stands for neck and basti refers to the container. In this process, warm medicated oil is retained on the back of the neck using a reservoir made of black gram dough. The reservoir covers all the vertebrae of the neck along with 2 to 3 vertebrae of the thoracic region. The worm oil which is poured into the reservoir helps in alleviating neck pain and strengthens the bones and joint tissues.
The cold oil is soaked using a cotton gauge and warm is poured again. The entire procedure runs for 30 minutes. After removing the oil, the area is gently massaged using the same oil and the patient is asked to rest for some time. This treatment helps in relieving neck pain and stiffness, cervical spondylitis, shoulder pain and headache.
These are the 16 most important treatments of traditional Ayurveda that has been administered for ages to treat various diseases and ailments. Let us know if we have missed any other important treatments from ancient Ayurveda.